Stainless Steel Plates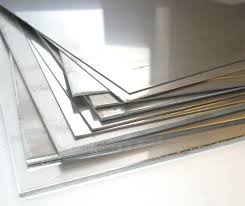 Stainless steel plate is generally sold in the HRAP condition and finish, though some thinner material may be available with a 2B finish.  Standard size plates vary in width from 4' to 8' and in length from 8' to 20', but non-standard full sizes are also available.  Stainless cut plate may be sheared in thicknesses usually up to 3/8", and may be plasma cut in thicknesses over that.  Stainless plate is also cut via waterjet, band-saw, or laser in some instances.
Grade :
Our range of stainless steel sheets, plates & coils are available in grade like 304, 304l, 304h, 316, 316l, 316ln, 316ti, 309, 310s, 317l, 321, 347, 409, 410, 420, 430, 446 & 202
Plates can be supplied in the form of: coils, foils, shim sheet, perforated sheet,chequered plate, strip, flats, blank (circle), ring (flange) & angle, channel, tray etc. 
Features :

3/16″ to 6″ plate, various widths and lengths available
We can plasma cut, saw cut, or waterjet cut to your specifications.
Polishing services available